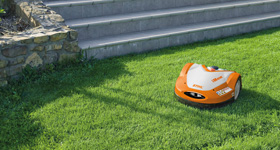 iMOW® Robotic Mowers
There's a lot more to an iMOW® robotic mower than you might expect.
The iMOW® robotic mower doesn't just mow the lawn, it also provides fully automatic lawn care tailored to your garden. Extremely fast, easy to use and a great looking lawn. During mowing, iMOW® shreds the grass clippings finely, which fall back onto the lawn and act as an effective fertiliser (known as mulching). Not only does this provide vital nourishment to help grow a healthy lawn, it also means there are no clipping to collect or dispose of. Once the work is done or the battery needs charging, it automatically returns to the docking station. And because iMOW® works so fast, you can enjoy your lawn unhindered. All iMOW® robotic mowers with a C in their model name can be controlled via the iMOW® app using your smartphone or tablet. Using the app, you remotely send your iMOW® out to mow, change mowing plans or send it back to the docking station, plus much more.
The version(s) available in each country may differ from the above range and specifications; specific details may be subject to change without notice. Please ask your local STIHL Approved Dealer for further information.